The Ditchburn Mk2R Music Maker 30 Part 1
PART 1: Karl Dawson's MK2R Music Maker 30 Serial Number 2594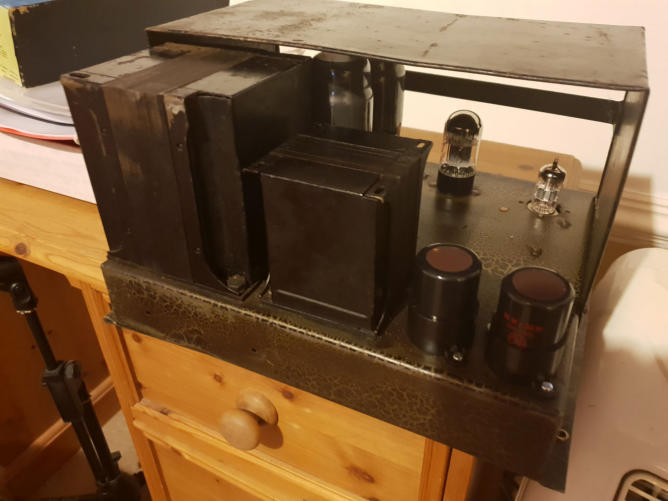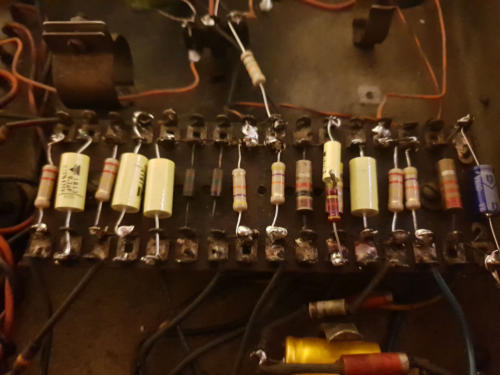 The Amplifier has been repaired by Geoff Young ( the Jukebox Man )
The leaky electrolytic capacitors have been replaced
A NOS tonearm and pick-up was found in Russia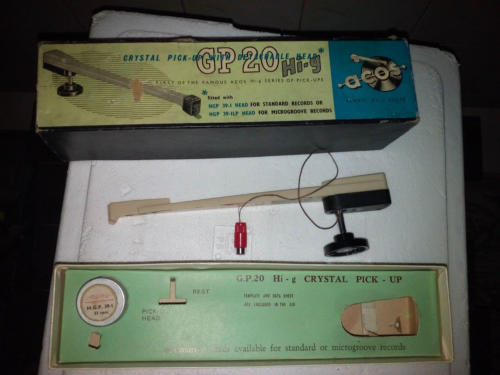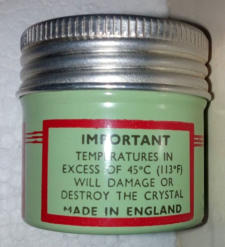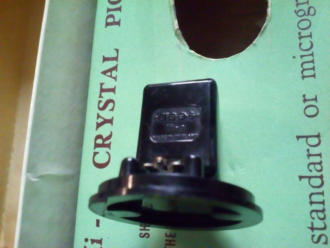 The Crystal Pickup was sealed in its tin and on its original transit mount
This Machine first started its life as a MK2 16 selection 78 RPM machine, at some point after 1955 it was returned to the Dock
Road factory in Lytham and converted to a 30 play 45 RPM machine, the original mechanism was built in the UK under
license from the USA company Wurlitzer, but the 30 Play conversion kit was designed totally by Ditchburn, as far as we know
Wurlitzer never made a 30 play 45 rpm mechanism.
I acquired this machine from a very nice guy called Dean who lived near Middlesbrough, I went round to his house to pick it up
and he kindly helped me load it into the car, although it was not working it was complete and everything was there including
the original Ditchburn / THC amplifier, it was a great feeling taking this machine back home to Lytham, it felt like she was
returning to her home town.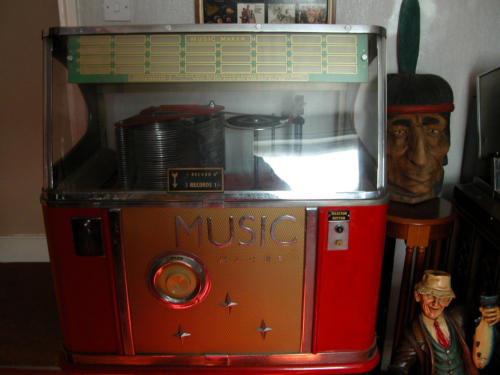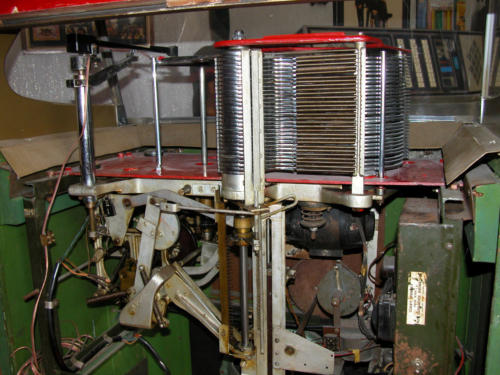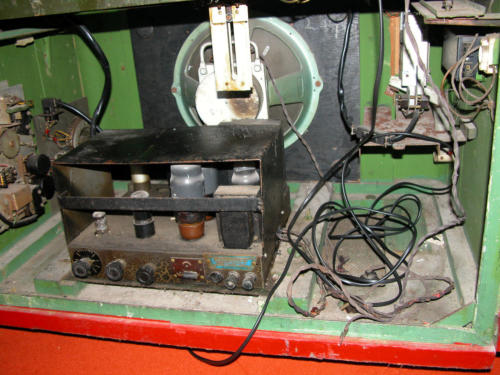 Photo Ref: DB243 Courtesy of Karl Dawson. Unrestored MK2R
Photo Ref: DB244 Courtesy of Karl Dawson. Unrestored MK2R
Photo Ref: DB245 Courtesy of Karl Dawson Un-restored MK2R
Once the machine was at home, the first thing i did was remove the Amplifier, there were quite a few capacitors that showed
signs of Electrolyte leakage, i was fortunate at the time to be working in Lincoln and I was aware that Geoff Young ( the
Jukebox man ) had a workshop restoring Jukeboxes in Lincoln, so i took the amp with me to work and dropped it off at Geoffs
workshop, our main concern was the PX4 output valves, although they looked in good condition it was unknown if the were
working and replacing two of these could cost me around £800… Geoff contacted me a few weeks later to tell me that after
testing them they were fortunately both intact and working. that was great news, i had asked Geoff originally to fully strip down
the Amp and fully restore it … but he advised me that it would be better to keep it in its original condition, as it would be
impossible to recreate the original marbled paint finish, this i now totally agree with him. when i went to pick the amp up Geoff
played some vinyl through the amp and to me it sounded a fantastic very warm sound.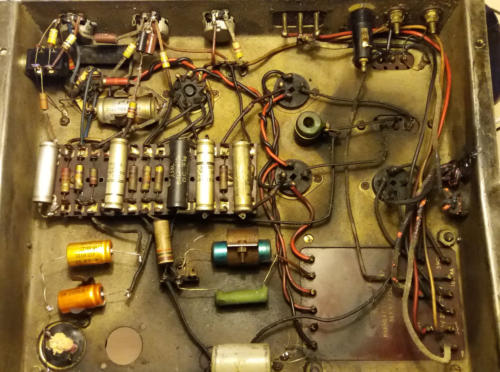 Photo Ref: DB246 Courtesy of Karl Dawson Un-restored MK2R AMP
When talking to Geoff Young, we discussed the pickup, it originally had a acos HGP-39 Crystal Pickup, but this at some time
had failed on my machine and a magnetic pickup had been glued on the bottom of the tone arm, because the crystal is made
from a Rochelle salt substrate it is very susceptible to moisture and heat damage, so the chances of getting a working
replacement was very slim, well thank god for Google and Ebay.
I was googling HPG39 and found a photo of a Acos tone arm in a box currently situated in Russia, the guy selling it wasn't
shipping to the UK, so using Google translator i contacted him via the Russian Ebay website and asked him if he would ship
to the UK, and thankfully he said he would, after spending £85 inc shipping, it arrived 3 weeks later , and it was a brand new
tonearm and HPG 39 cartridge still in the retail box although it was nearly 70 years old … but i was not sure if the crystal had
been subjected to moisture or heat ?
My next stage of the restoration was to remove the simplex mechanism and check out the mechanics to make sure they were
all working before putting any power on the machine. to do this i needed to be able to move the mech around also whilst
being able to get access and operate all the parts, i decided to build a trolley cart that would support the mech and also allow
me full access.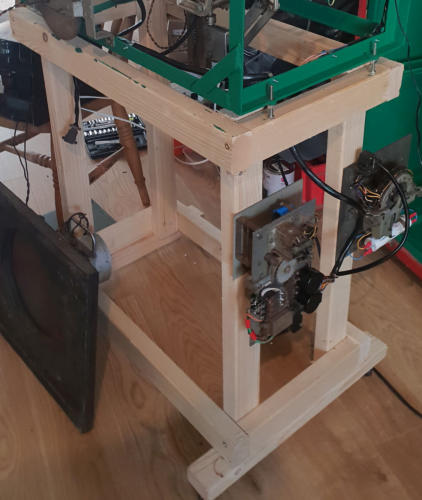 The next stage was also to document the wiring on the juke box
as would need to be able to put the wires back into the correct
positions on reassembly, also as the website had no manuals
for these machines, it would be good to generate diagrams the
historical factor. these have now been added to the MK2R
Technical section.
Photo Ref: DB250 Courtesy of Karl Dawson.
Photo Ref: DB251 Courtesy of Karl Dawson.
After generating the electrical diagrams, i decided power up the machine and find out if there were any mechanical issues ?
Click on the YouTube Video below to view the results.
Contrary to my statement in the video that i wouldn't be stripping down the machine … after closer inspection i found quite a
few things that were wrong or needed attention, so I decided a strip down was they way to go, we will look at this in Part 2.
Coming soon… PART 2: Karl Dawson's MK2R Music Maker restoration